Napa Valley multi-party Bus Limo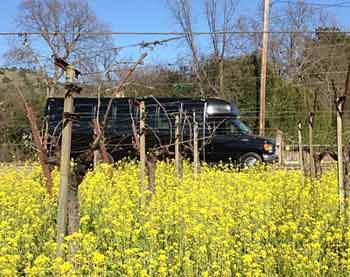 Our Napa Valley Large-party Bus Limo Winery Tour is custom designed to suit your specific tastes. Choose from classic old-world wineries to European and modern American styled wineries and feast on a range of cuisines to match.
Napa Valley Wineries are world-renowned and for good reason. They boast amazing wines, delicious dining and luxurious comfort blended into the breath-taking scenery of the Napa Valley countryside.
If you're traveling in a group of friends, family or colleagues then our Napa Valley Large-party Bus Limo Wine Tour is idyllically suited. Each Bus Limo has the capactiy for large parties of guests and all of the comforts and luxury of a Lmiousine yet with far more headroom.
Napa Valley Large-party Bus Limo: Features
Each of our large-party Limo Buses boasts the following features:
Spacious Bus Limo Interior
Ultra-luxury Comfort
2 Large Flat Screen TV's (44"& 17")
iPod DVD/CD Player inputs
Smart-Phone Docking
Concert Quality Surround Sound Stereo
12" Subwoofer System
GPS Satellite Navigation
2 Full Bars with Ice Bins
Extensive Mood Lighting
Whether for a party, celebration, wedding or other special event, choose our Napa Valley Large-party Bus Limo Winery Tour and see, taste and enjoy the best that Napa Valley has to offer in the privacy, luxury and style that a Bus Limo offers.
Contact us today to see how we can custom-design the perfect Napa Valley large-party Bus Winery Tour for you!
1-415-724-3246
We specialize in a number of types of special events from weddings to corporate events, bachelor and bachelorette parties, anniversaries and more. A large-party bus limo to Napa is great for large parties when you and friends, family or colleagues want to see the Wine Country in comfort and style.
We have amazing reviews on Yelp which we invite you to review yourself to see. They range from our San Francisco Limousine and large-party Bus Limousine services to our Napa large-party Bus Wine Tours.
If you have any questions about us, our fleet, our services or pricing - please don't hesitate to ask.