Business Limousines and Large-party Bus Limos
MillionServices provides a high-class Business Limousine service in San Francisco and the Bay Area. Whether a local businessperson or just visiting, we understand that you require a high-level of service.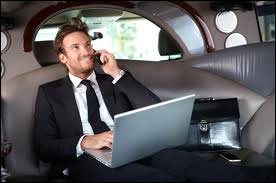 Our drivers always arrive early and are extremely knowledgeable about navigating San Francisco and the Bay cities during on and off-peak traffic hours. They know the best streets to take and when to take them so that you arrive on time. They are also well connected with the best hotels, restaurants and entertainment venues in town and can assist with access to them.
If you require a mix of luxury and space for a larger business party then we recommend our Business multi-party and large-party Bus Limo service which combines the luxury and amenities of a Limo with the space of a bus. Whether celebrating that big deal, heading to the company party or in town for the convention, this is the way to go for groups.
Make your reservation today: 1-415-724-3246 (Or click here to make your reservation online).
Enjoy our complimentary bottle of champagne which comes with each Limousine or Party Bus rental.
Our Limousine and Large-party Bus rentals are perfectly priced and our service is top flight. In fact we come highly recommended and have more than 60 5-Star ratings on Yelp.
See our Large-party Bus Limo & Stretched Limousine rental prices here.