20 Passenger Limo Bus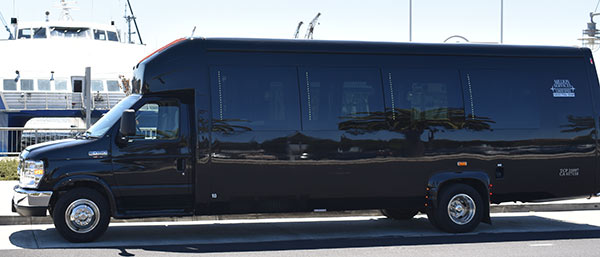 Our 20-Passenger Executive Limo Bus is a large, extremely comfortable party bus with all of the luxurious amenities desired.
If you are seeking to travel in style with a large party and want to be able to relax in the plush seating, enjoy high-quality audio and video, sip an excellent wine on your way through Napa or Sonoma or to share a night out with friends around San Francisco, the 20-Passenger Executive Limo Bus is the absolute choice.
Under the hood and below - it features a powerful engine, heavy-duty wheels, tires and top-of-the-line shocks, drive-chain and more. It is like riding on air.
Inside there is no question as to the opulence. All of the accoutrements are there, nothing held back. From fine drinking glasses to the bar itself, the mood-lighting and the Hi-Fi sound system and surround-sound speakers with multiple large flat-screens make your voyage even more enjoyable.
The Executive Limo Bus is the party bus of the business class. It is the ideal selection for corporate events, entertaining VIPs and enjoying excursions to the Wine Country.
Please contact us with any questions you have and we look forward to chauffeuring you soon. We have a 5-Star rating because we put our personal best into making your travel the safest and most enjoyable it can be.
Amenities Include: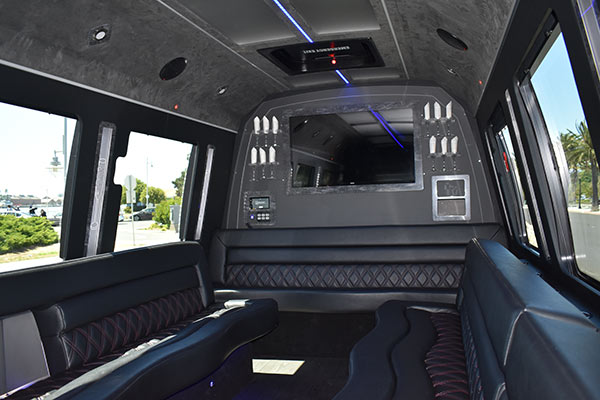 -Plush Seating for 20 Passengers
-Premium Audio/Visual Package: 28"/43" Flat Screen TVs, Rockford Fosgate Audio
-Full Signature Series Lighting Package
-110/USB Charging Stations
-New Center Bar Design with Ice Chest
-Champagne Bucket
-Champagne Glass Holders (Glasses Included)
-Rock Glass Cup Holders (Glasses Included)
-Privacy Shades
-Exterior Coach Lights
-Interior RGBW Pillar Lights
-Accent, Rope and Mood Lighting